Campus Plans and Images
Embracing a unified future.
91AV Lutheran College (CLC) is investing in the future to ensure students receive the best possible education and teachers are empowered with modern facilities. A detailed planning process has confirmed that the College needs to unite on one campus to provide a better cultural and educational experience.
Our reasons:
Unifying on one broader campus will enable our philosophy of contemporary learning with innovative, purpose-built facilities.
Education in Toowoomba is a competitive sector with several private schools competing for enrolments.
CLC's three campuses – Stephen Street, Warwick Street, and Hume Street – unnecessarily stretch resources and dilute our College culture.
The College is growing and aspires for enrolments to increase to 750-800 students in the next decade, supporting greater College involvement in competitions and more course offerings.
A new Junior Learning Centre (JLC) and Early Learning Centre (ELC)
A new Junior Learning Centre and Early Learning Centre – both adjacent South Street and located across the road from one another – will form a contemporary Junior College precinct with flexible learning areas, abundant green space and landscaping to support nature play and outdoor learning.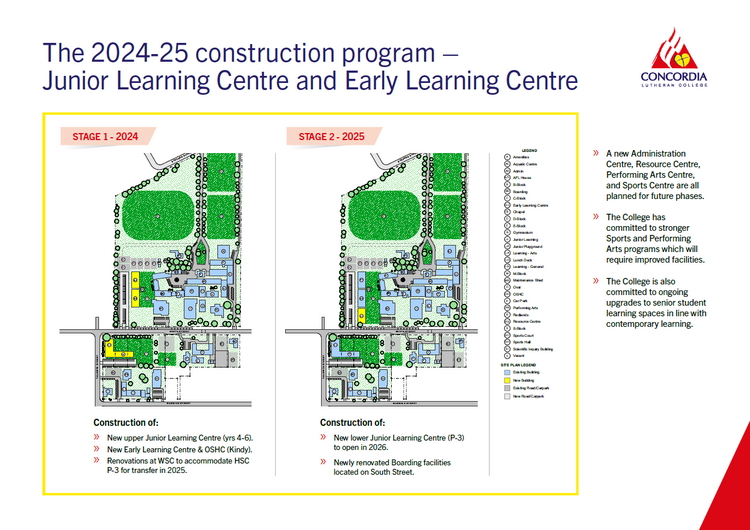 Designing the JLC for maximum flexibility
The new Junior Learning Centre will support rich learning opportunities through its flexible design
Classrooms will be split in the middle with large glass partitions to aid in combined learning activities and group projects. Energy efficient skylights allow greater natural light and boost student productivity.
Withdrawal rooms will offer quiet, focused spaces suitable for student break outs, group work, tutor sessions, and more.
Learning commons will deliver flexible, supplementary spaces to facilitate contemporary pedagogy; well-equipped wet prep/clean up areas enable fun learning activities.
Large format sliding partitions will open up the space, blurring lines between inside and out.
Flexible learning area is an additional space that may be used for art, science classes or food preparation.
Open verandahs will gently link the learning spaces back to the natural environment and provide backup informal outdoor learning areas in the event of wet weather.
Amenities core will be centrally located for easy student and teacher use and will include toilets and the sports shed.
Covered outdoor court suitable for shaded outdoor learning activities.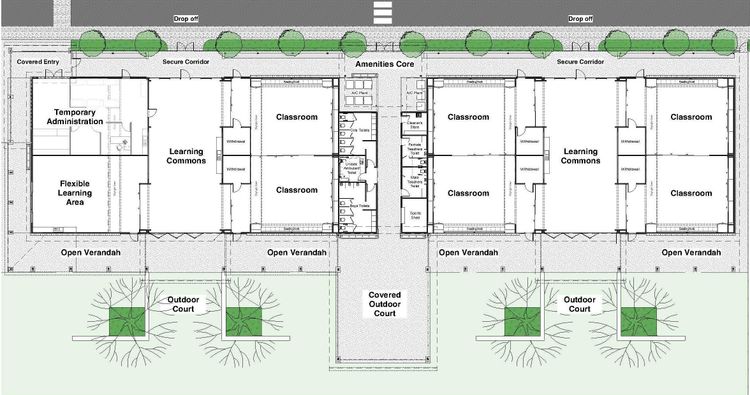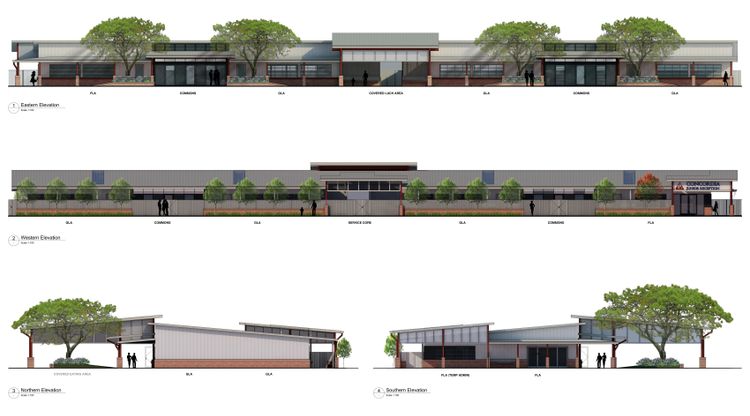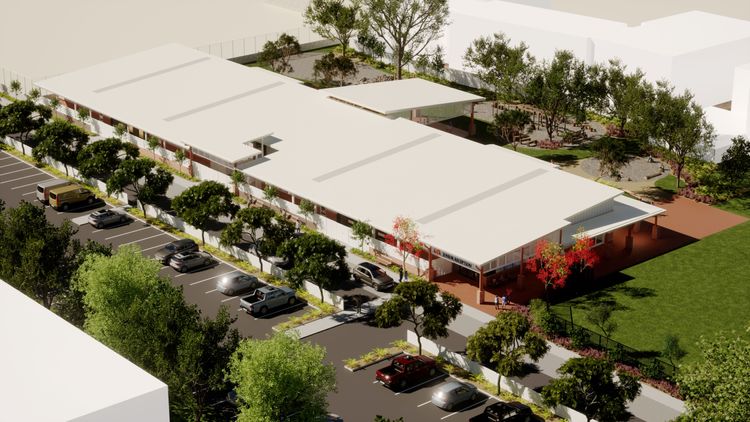 Master Plan Site Diagrams (all stages)
3D site plans assist you to visualise the College's overall plan for one integrated site spanning both the Stephen Street and Warwick Street locations.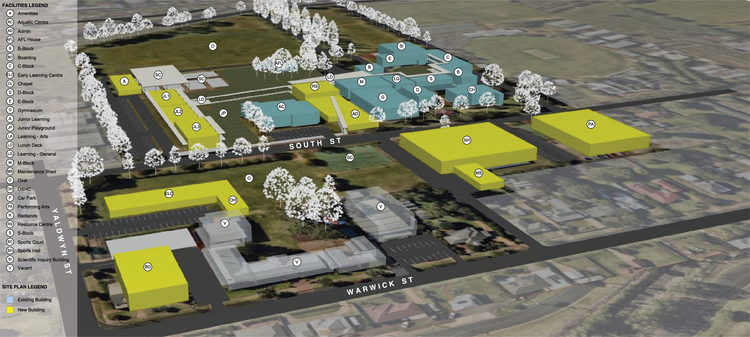 All stages site master plan
This illustrates the long-term vision for CLC - developing one, integrated site that delivers a contemporary learning and teaching experience.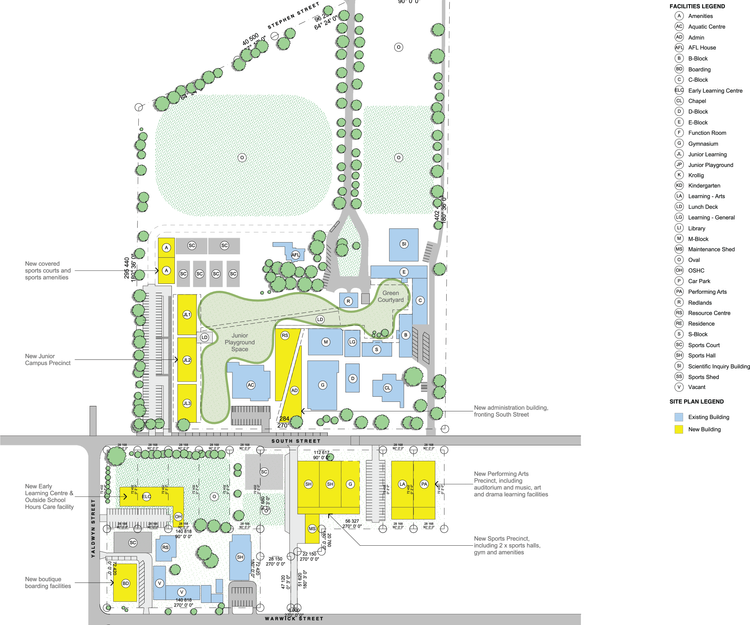 Learn more at our information sessions
Information about the College's plan and upcoming changes will be available at these sessions. We invite you to come along, speak to our team, and provide your feedback.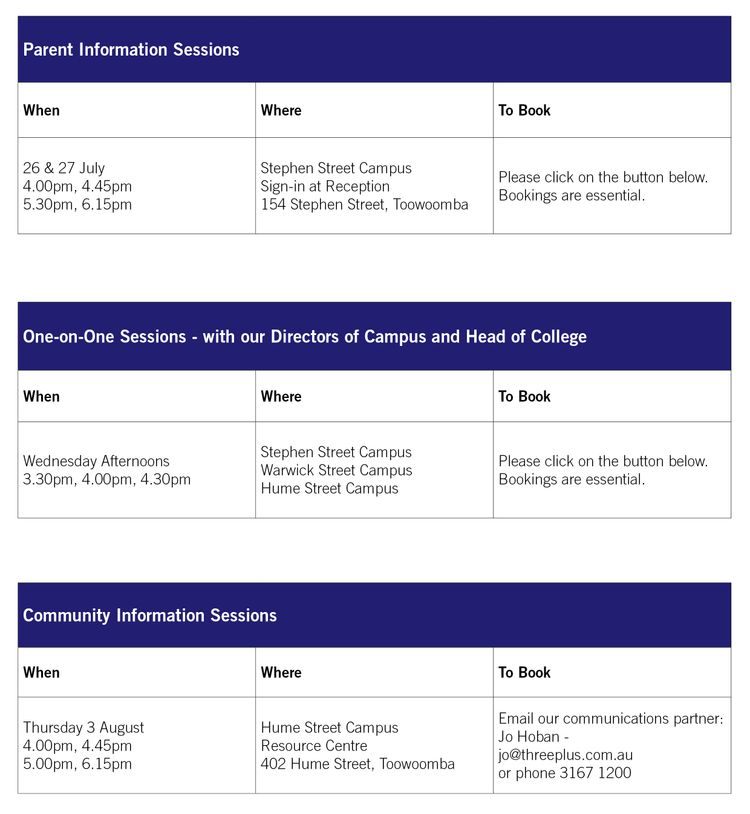 Click here to Book
91AV Lutheran College - Embrace the Possibilities
Inspiring lifelong learners, critical thinkers and caring citizens in a Christian community